Welcome to all Shayari Lovers | Here we provide All Latest Shayari in Urdu Text and English Text | اردو شاعری | Shayari in Urdu 2 Lines | Shayari in Urdu Sad | Shayari in Urdu Bewafa | Images of Shayari in Urdu | Urdu Islamic Shayari | Shayari in Urdu Allama Iqbal | Author Quotes | Motivational Quotes | Urdu Shayari WhatsApp Status | Urdu Zindagi Shayari | Sad Love Shayari in Urdu | Romantic Urdu Shayari | New Urdu Shayari | Famous Urdu Poets Shayari | Dil Urdu Shayari | Mohabbat Urdu Shayari | Life Shayari in Urdu |
Shayari is a form of poetry in Urdu, a language spoken in South Asia, particularly in India and Pakistan. It is an artistic form of expression that uses language and imagery to convey emotions, ideas, and experiences. Shayari is often written in a ghazal, which is a poetic form consisting of rhyming couplets and a refrain, or in a nazm, which is a longer poem that may or may not have a rhyming scheme.
Shayari is a prominent feature of Urdu literature, and many poets have contributed to its rich tradition over the centuries. It covers a wide range of themes, including love, nature, spirituality, social and political issues, and more. Shayari is often recited or sung in a musical setting, such as during cultural events, weddings, and other celebrations.
Sad Love Shayari in Urdu : Kareeb To Hain Magar Duriyon Ke Sath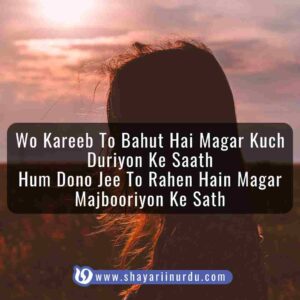 Wo Kareeb To Bahut Hai Magar Kuch Duriyon Ke Saath
Hum Dono Jee To Rahen Hain Magar Majbooriyon Ke Sath

وہ قریب تو بہت ہے مگر کچھ دوریوں کے ساتھ 
ہم دونوں جی تو رہے ہیں مگر مجبوریوں کے ساتھ 
Love Sad Shayari in Urdu : Zindagi Khamosh Ho Gayi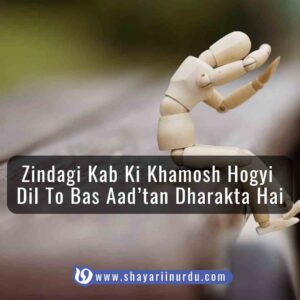 Zindagi Kab Ki Khamosh Hogyi 
Dil To Bas Aad'tan Dharakta Hai

زندگی کب کی خاموش ہوگئی
دل تو بس عادتن دھڑکتا ہے
Urdu Sad Love Shayari : Mar Jaun Mere Haq Me Dua Kar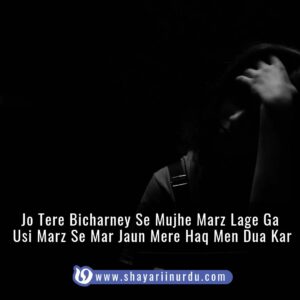 Jo Tere Bicharney Se Mujhe Marz Lage Ga
 Usi Marz Se Mar Jaun Mere Haq Men Dua Kar

جو تیرے بچھڑنے سے مجھے مرض لگے گا
اسی مرض سے مر جاؤں میرے حق میں دعا کر
Sad Love Shayari in Urdu : Shikwey Mehboob Se Phir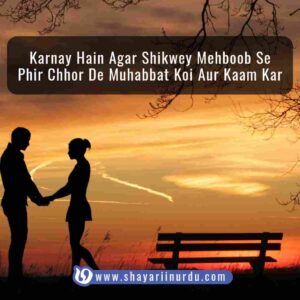 Karnay Hain Agar Shikwey Mehboob Se
Phir Choor Day Muhabbat Koi Aur Kaam Kar

کرنے ہیں اگر شکوے محبوب سے
پھر چھوڑ دے محبّت کوئی اور کام کر
Shayari in Urdu Sad Love : Chup Karane Wala Koi Nahi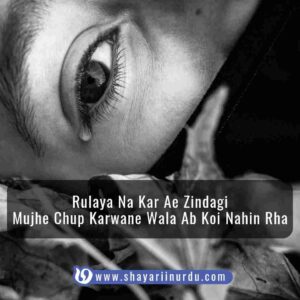 Rulaya Na Kar Ae Zindagi
Mujhe Chup Karwane Wala Ab Koi Nahin Rha

رلایا نا کر اے زندگی 
مجھے چُپ کروانے والا اب کوئی نہیں رہا
Sad Shayari in Urdu Love : Basar Kar Rahe Hain Mehsoos Kiye Baghair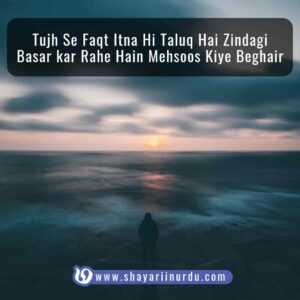 Tujh Se Faqt Itna Hi Taluq Hai Zindagi
Basar kar Rahe Hain Mehsoos Kiye Beghair

تجھ سے فقط اتنا ہی تعلق ہے زندگی
بسر کر رہے ہیں محسوس کیے بغیر
Sad Love Shayari Urdu : Yaad Phir Bhi Tumhari Aati Hai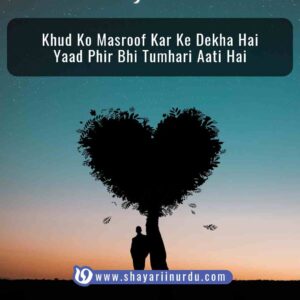 Khud Ko Masroof Kar Ke Dekha Hai
Yaad Phir Bhi Tumhari Aati Hai

خود کو مصروف کر كے دیکھا ہے
یاد پِھر بھی تمہاری آتی ہے
Love Sad Urdu Shayari : Thak Chuke Hain Khud Se Ladte Ladte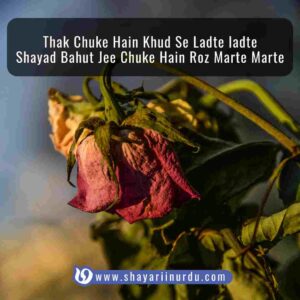 Thak Chuke Hain Khud Se Ladte ladte
Shayad Bahut Jee Chuke Hain Roz Marte Marte

تھک چکے ہیں خود سے لڑتے لڑتے
شاید بہت جی چکے ہیں روز مرتے مرتے
Sad Love Shayari in Urdu & English : Dil Udas Hai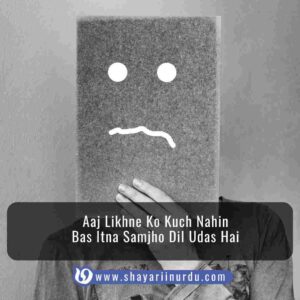 Aaj Likhne Ko Kuch Nahin
Bas Itna Samjho Dil Udas Hai

آج لکھنے کو کچھ نہیں
بس اتنا سمجھو دِل اُداس ہے
Sad Love Shayari in Urdu : Baar Baar Na Rulaya Kar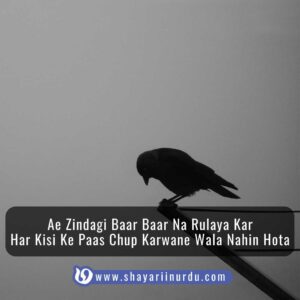 Ae Zindagi Baar Baar Na Rulaya Kar
Har Kisi Ke Paas Chup Karwane Wala Nahin Hota

اے زندگی بار بار نا رلایا کر
ہر کسی كے پس چُپ کروانے والا نہیں ہوتا
Love Shayari in Urdu & English Text : Kya Mangu Tumhe Khuda Se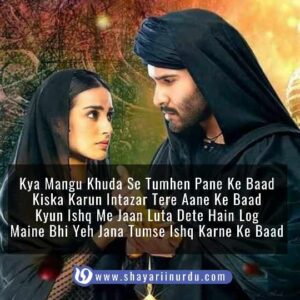 Kya Mangu Khuda Se Tumhen Pane Ke Baad
Kiska Karun Intazar Tere Aane Ke Baad
Kyu Ishq Me Jaan Luta Dete Hain Log
Maine Bhi Yeh Jana Tumse Ishq Karne Ke Baad

کیا مانگوں خدا سے تمہیں پانے کے بعد 
کسکا کروں انتظار تیرے آنے کے بعد 
کیوں عشق میں جاں لٹا دیتے ہیں لوگ 
میں نے بھی یہ جانا تمسے عشق کرنے کے بعد 

Love Shayari Urdu & English Text : Jis Ghadi Tum Se Baat Hoti Hai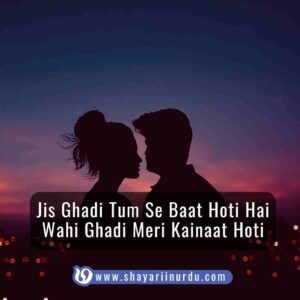 Jis Ghadi Tum Se Baat Hoti Hai
Wahi Ghadi Meri Kainaat Hoti

جس گھڑی تم سے بات ہوتی ہے 
وہی گھڑی میری کائنات ہوتی ہے 

Love Shayari in Urdu Text : Unki Ek Muskurahat Par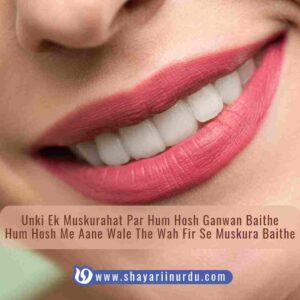 Unki Ek Muskurahat Par Hum Hosh Ganwan Baithe
Hum Hosh Me Aane Wale The Wah Fir Se Muskura Baithe

انکی ایک مسکراہٹ پر ہم ہوش گنواں  بیٹھے 
ہم ہوش میں آنے والے تھے وہ پھر سے مسکرا بیٹھے 
Love Shayari in Urdu Text : Uksa Saath Kaisa Hai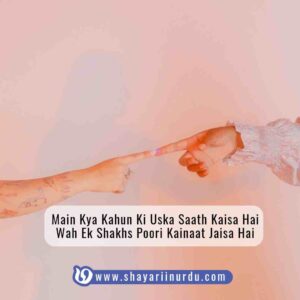 Main Kya Kahun Ki Uska Saath Kaisa Hai
Wah Ek Shakhs Poori Kainaat Jaisa Hai

میں کیا کہوں کہ اسکا ساتھ کیسا ہے 
وہ ایک شخص پوری کائنات جیسا ہے 
Urdu Love Shayari : Hamen Kehna Nahi Aata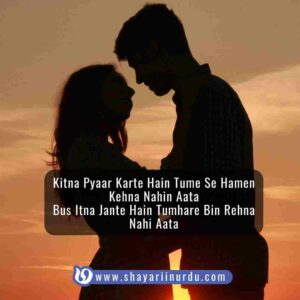 Kitna Pyaar Karte Hain Tume Se Hamen Kehna Nahin Aata
Bus Itna Jante Hain Tumhare Bin Rehna Nahi Aata

کتنا پیار کرتے ہیں تم سے ہمیں کہنا نہیں آتا 
بس اتنا جانتے ہیں تمھارے بن رہنا نہیں آتا